March 6, 2019
Working H Meats & Market Now Open!
Fort Pierpont's Newest Addition, Working H Meats & Market Now Open!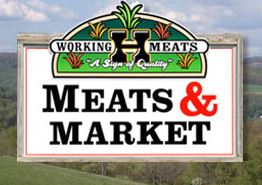 Working H Meats moves from farmer's market to Fort Pierpont
MORGANTOWN — This year, a butcher shop and juice bar/supplement store opened their doors in the Fort Pierpont development, and more businesses are coming.
The development is a huge success so far, Chris Wilbert, associate with Premier Commercial Real Estate, said. Fort Pierpont is off Interstate 68's Exit 7.
"It's really taken off," Wilbert said.
Monday's opening of Working H Meats and Markets has been much anticipated, co-owner and manager Grant Hardesty said.
"So far, so good," he said. "We've been cutting people lots of good steaks."
He said business has been steady with a mix of new walk-in and established customers. Working H had an established customer base from selling at the Morgantown Farmer's Market.
That's where custom Ray Ryczek first bought from the Hardestys. On Tuesday he stopped in to check out the new location and bought boneless pork chops, smoked kielbasa and maple breakfast sausage links.
"It's wonderful," Ryczek said of the new location and the store's food.
In addition to cuts of meat more diverse than a chain grocer, Hardesty said the shop can handle any kind of pork or beef custom order. Its freezers are stocked with whole rabbits, pork hearts, chicken feet and more traditional roasts.
Local jams and jellies, and fresh eggs also fill the store's shelves. Dairy and produce are coming soon, Hardesty said.
All items are locally sourced — something important to Hardesty.
He said his family's business started off small almost 13 years ago and shopping local helps support other small businesses.
"Everything is fresh," Hardesty said.
There's more
Get Fit Juices and Shakes, a full service juice bar and full service workout supplement store, opened at Fort Pierpont on Jan. 15, partner Garth Joseph said.
He said Get Fit offers a truly healthy option. It sells juices, shakes, concentrated power juice shots, acai bowls, salads and wraps. There are both keto and vegan options, Joseph said.
A full lineup of workout products, such as pre-workout and protein shake powder, are also for sale he said.
Joseph said the location, right next to Planet Fitness, is ideal and customers are excited more options are coming to the Cheat Lake area.
Grazer's Chop House, a steakhouse; Big Red's Shanty, a burger and hot dog diner; and Ziebart, an automotive detailing business, are all coming soon to Fort Pierpont, Wilbert said.
He said Cheat Lake will continue to grow and he expects north-central West Virginia will be in a better position to compete for national retailers after the 2020 census shows the area's growth over the past 10 years.
Twitter @WillDean_DP
WDean@DominionPost.com